Description
In-Line Protection of Process Equipment
Spears® Y-type sediment strainers are the perfect choice for in-line removal of suspended solids, sediment, dirt and debris. Convenient removable strainer allows quick cleaning with an assortment of screen mesh sizes to meet a variety of application needs. Spears® Y-Strainers are produced from PVC Gray, PVC Clear for fluid visibility and CPVC Gray for higher temperatures. Available with socket, Special Reinforced (SR) threads, flanged, or True Union socket and SR threaded end connectors in IPS sizes 1/2″ – 4″.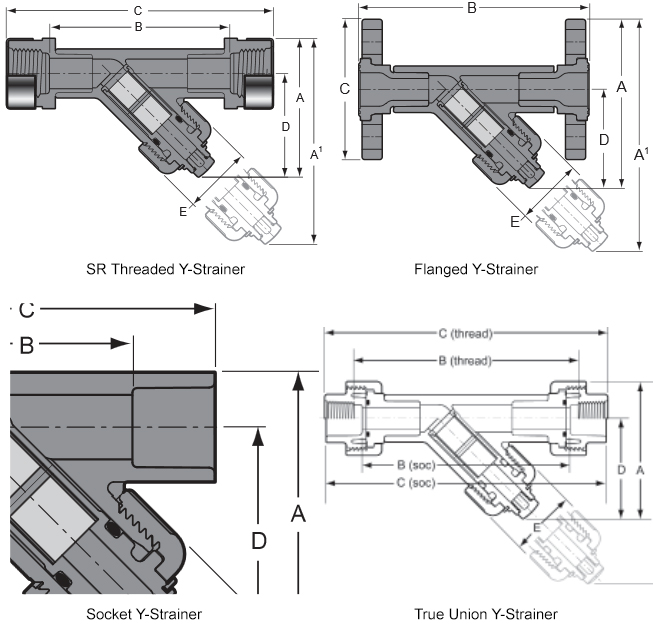 In-Line Horizontal or Vertical Installation
Line fluid flow is diverted through the interior of the strainer to fully entrap sediment, dirt and debris in either horizontal or vertical installation.
Rugged PVC or CPVC Construction
Computer engineered design places strength where it's needed most. PVC or higher heat handling CPVC materials provide exceptional chemical and corrosion resistance.
Special PVC Clear-Body Option
Allows visibility of internal flow and easy monitoring of sediment accumulation in the strainer.
Convenient Removable Strainer Basket
Strainer easily unscrews from Y-body for quick cleaning of strainer screen.
EPDM or FKM O-ring Options
Choice of high grade EPDM or FKM O-rings allows application specific selection for optimum chemical resistance.
Full Service Pressure Rating
Sizes 1/2″- 2″ Pressure Rated to 150 psi @ 73° F
Sizes 3″ – 4″ to 90 psi @ 73° F
PVC, CPVC and Stainless Steel
Strainer Screen Assortment Options
Standard Y-Strainers are assembled with 1/32″ perforation (20 Mesh) PVC screens for PVC Strainers and CPVC Screens for CPVC Strainers. Optional perforation sizes and 316 Stainless Steel Mesh Screens are available.
Standard or Optional
Magnetic Drain Plug for Quick Flushing
Standard plug easily removes for quick flushing of strainer or installation of a bleed-off valve. Optional magnetic plug traps ferrous metal particles inside strainer.