Description
Cla-Val 81-02 Non-Slam Check Valve Features
Simple Proven Design
No-Slam Operation
Drip-Tight Shut-Off
Dual Speed Control
No Packing Glands or Stuffing Boxes
Available in a Variety of Materials
The Cla-Val Model 81-02 Check Valve is a hydraulically operated No-Slam Check Valve with dual speed controls.  This valve opens when the pressure at the inlet exceeds the discharge pressure. A gradual rate of opening prevents sudden opening surges. When a pressure reversal occurs, the higher downstream pressure is applied to the cover chamber through the control tube lines, and the valve closes drip tight.
This valve is ideally suited for use where a positive shutoff is required. The rubber disc assures tight sealing even if the fluid contains grit or other small size particles. The simple packless design insures reliable operation and freedom from leaks.
Note: The effectiveness of this valve is related to pipeline velocity. We recommend a maximum flow based on pipeline velocity of 6 feet per second. If pipeline velocities exceed 6 feet per second, consideration should be given to adding a Cla-Val Model 50-01 Pressure Relief Valve or a Cla-Val Model 52 Series Surge Control Valve to the system.
Typical Applications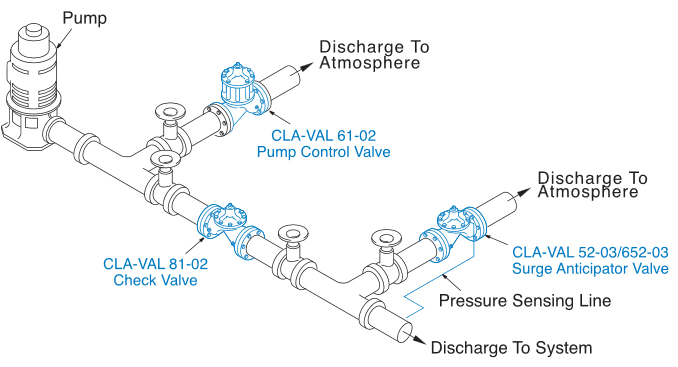 Deep Well Pump
This valve should be an integral part of any well designed pumping system. It is used to prevent damaging and sometimes expensive flow reversal.
Booster Pump
Install on the discharge of booster pumps to prevent return flow into tank when pump is off. Relief valve as shown is good practice to minimize surges when pump stops.