Description
Cla-Val 90-01 Pressuring Reducing Valve Features
Sensitive and Accurate Pressure Control
Easy Adjustment and Maintenance
Tamper Resistant
Optional Check Feature
Fully Supported Frictionless Diaphragm
The Cla-Val Model 90-01 Pressure Reducing Valve automatically reduces a higher inlet pressure to a steady lower downstream pressure, regardless of changing flow rate and/or varying inlet pressure. This valve is an accurate, pilot-operated regulator capable of holding downstream pressure to a pre-determined limit. When downstream pressure exceeds the pressure setting of the control pilot, the main valve and pilot valve close drip-tight. If a check feature is added, and a pressure reversal occurs, the downstream pressure is admitted in the main valve cover chamber, closing the valve to prevent return flow.
Typical Applications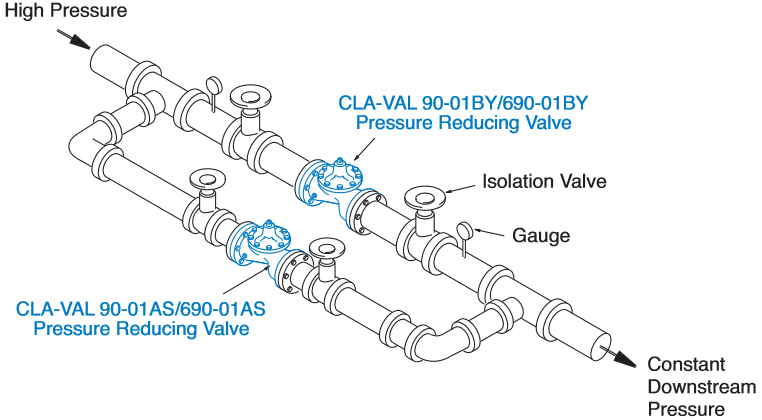 Typical applications include pressure reducing valve station using Model 90-01BY/690-01BY and Model 90-01AS/690-01AS in parallel to handle wide range of flow rates. Larger Model 90- 01BY/690-01BY valve meets requirements of peak loads and smaller Model 90-01AS/690-01AS handles low flows.
Cla-Val Model 90-01KO Pressure Reducing Valve with Anti-Cavitation Trim provides for optimum downstream pressure control while reducing noise and eliminating damage associated with cavitation. See Cavitation Guide to determine if the valve is a candidate for the KO Anti-Cavitation Trim.